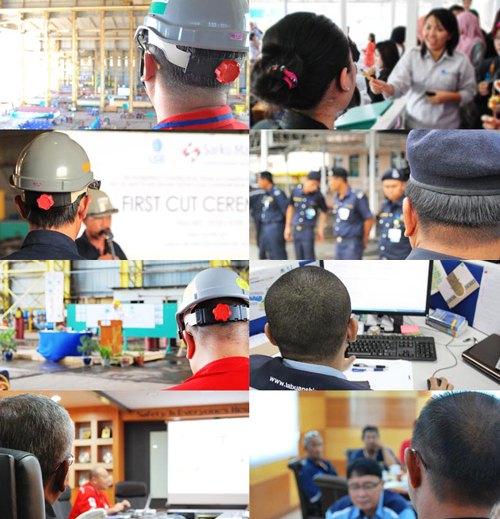 PEOPLE – our most valuable resource.
As one of the largest private employers on the island of Labuan Federal Territory, we know that our people are-and will always be-the key to our success.
Appreciative of the fact that each one of them possess individual talents and experiences, we understand the significance of practicing diversity and inclusion at our workplace. With this in mind, we provide a safe workplace environment that promotes collaboration, teamwork and respect towards each other's cultural value, and support opportunities for personal and professional development.
At LSE, you will be working with our strong team of highly talented, professional, diligent and motivated individuals who constantly strive to give their personal best in everything they do. A rewarding and satisfying career whilst maintaining a healthy work-life balance awaits you when you join us.
---
We invite suitably qualified individuals to apply for the following vacant positions:
POSITION :
MEDICAL ASSISTANT (MA) – HEALTH, SAFETY & ENVIRONMENT (HSE) DEPARTMENT
JOB SUMMARY
The Medical Assistant is responsible for the care and safety of any staff or sub-contractors who have sustained illnesses / injuries while working. They will also be required to perform administrative duties, recordkeeping, inventories and manage forms.
Essential duties and responsibilities – Respond to emergency cases, administers first aid and care to injured / ill staff, provide assistance to staff in emergency situations, conduct management and upkeep of all first aid supplies including emergency equipment, accompanies staff to the local hospital or appointed panel clinic when necessary, fill-in, process & manage office incident and medical report forms, enter medical information in the database, and if required, is available for on-call emergencies while on duty (Office Hours) and as and when required.
REQUIREMENTS
• Academic Qualification – Degree in Quantity Surveying or any related Engineering field.
• Years of Experience – Minimum Five (5) years working experience in Oil & Gas and Marine Construction industry.
• MBBS or equivalent from a recognized institution approved by Ministry of Health Malaysia.
• Registered with MMC (Malaysian Medical Council).
• Experience in handling medical, surgical & ER situations.
• Valid APC (Annual Practicing Certificate).
• Additional Skills – Able to understand technical document, drawings and essential symbols.
POSITION :
CONTRACT ENGINEER – CONTRACT & RISK MANAGEMENT DEPARTMENT
JOB SUMMARY
The Contract Engineer will closely assist the smooth functioning of the department to meet the key objectives of mitigating contract risk exposure, identifying inherent risks in contract, maximising revenue from variation works and reducing operational glitches of project teams.
The Contract Engineer will liaise closely with project teams in contract administration and analyse variation/modification of works that affect the parameters of project scope in both quantities and qualities.
The work scope warrants the ability to analyse and understand commercial conditions in all contracts, together with the ability to understand and interpret key elements of the national contract laws so as to be able to give guidance on contract matters to project managers and operational staff.
The Contract Engineer renders assistance in general matters to assist other departments such as correspondence and documentation pertaining to clients and subcontractors.
Establishing and maintaining proper communication channel with client/subcontractor/supplier on performance and contract compliance.
REQUIREMENTS
• Academic Qualification – SPM or Technical Certification or equivalent.
• Years of Experience – Minimum two (2) years working experience.
• Additional Skills – Computer knowledge, knowledge in construction laws, civil or quantity surveying, computer soft skills.
POSITION :
ESTIMATOR – COMMERCIAL DEPARTMENT
JOB SUMMARY
Receive requisition for estimate from client.
To prepare and present repair work specification (in cases no detailed or written specification are received from client or requester).
To work out cost estimates on proposed work scope.
To source, enquire and obtain quotation, price from suppliers/vendors/manufacturers on materials and equipment.
To prepare estimates for all additional work required for ongoing project/repair.
Monitor works in progress in order to have better picture of accessory works etc. Attend progress/clarification meeting when necessary.
To prepare Post Estimate on actual work done immediately after receiving worklist from Ship repair Department.
To counter check subcontractor quote against work done list to ensure all quoted items are captured/priced in the work done list.
To assist response to any clarification from clients on the post-estimate/final bill for the repair works.
To perform any other duties as instructed by superior (Manager/Senior Executive).
To inform superior any difficulties/problems encountered the course of work.
REQUIREMENTS
• Academic Qualification – Degree / Diploma (Technical/Engineering)
• Years of Experience – 2 years in technical field especially in ship repair/ship building and rig conversion works.
• Additional Skill – Computer literate, resourceful and able to work long hours and under pressure to complete the quotation before due date, and  good technical knowledge in ship system and ship repair works.
---
JOIN US
Send us your resume with a recent passport-sized photograph of yourself [n.r.] and a cover letter stating the job position and expected salary. Job seekers may also deposit their general resumes with us.
MAIL:
Labuan Shipyard & Engineering Sdn. Bhd.,
Human Capital Management Department (Recruitment Unit),
KM 9, Jalan Rancha-Rancha,
87000 Labuan F.T., Malaysia.
TEL: +6087 451 888
FAX: +6087 451 777
EMAIL: career@labuanshipyard.com
(Applications sent to any other LSE's official email addresses will not be entertained.)